This Green Tea Chiffon Cake is quite easy to make. Once you have got all the ingredients in your pantry, you can bake a beautiful green tea chiffon on the go. My family loves every dessert that made of green tea. When I was writing this recipe, I heard my husband's voice coming from our kitchen, "Where's the green tea cake? I can't find it." I told him it was put into fridge as it's got cream on it. Having written up this recipe, half of the cake was gone. Oh dear!
Prepare one 8-inch round cake mould with removable base
Ingredients
Batter:
80 gm cake flour
5 egg yolks
30 gm caster sugar
35 gm vegetable oil
1/2 tsp baking powder
1/8 tsp salt
3 Tbsp green tea powder (Matcha powder), or to taste
120 ml hot water (or hot milk)
Egg whites:
6 egg whites
50 gm caster sugar
1/2 tsp cream of tartar
Filling:
3/4 cup fresh whipping cream
2 Tbsp caster sugar (or add more to your taste)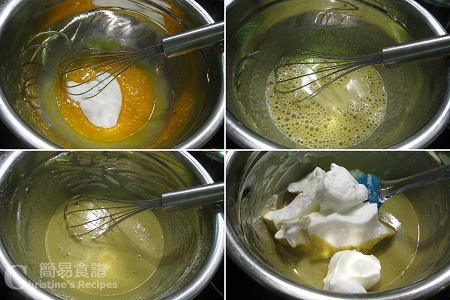 Method:
Preheat oven to 170C (338F). Dissolve green tea powder in hot water (or hot milk). Let cool down.
Combine cake flour, baking powder and salt well.
Mix green tea powder in hot water/hot milk well.
Whisk egg yolks, stir in 30 grams of caster sugar until completely dissolved. Add vegetable oil, green tea mixture, and sift in cake flour mixture in sequence. Make sure to combine and stir well between adding each ingredient. That's the batter you need. Set aside.
Use an electric mixer to beat egg whites until bubbles form. Add cream of tartar. Blend thoroughly, then add one third of sugar at a time. Combine well between the adds, until stiff peaks form. (Please refer to this video, showing how to beat egg whites, on my youtube channel.) Here's a simple test whether your egg whites are ready or not. The egg whites won't slip or fall down even if you turn your bowl upside down.
Fold in 1/3 of egg whites into the batter. Gently incorporate all ingredients with a rubber spatula. Repeat this procedure with the rest of the egg whites. Don't beat or stir too hard, just combine well.
Transfer mixture to cake mould. Bake in preheated oven for 35 to 40 minutes. Test the cake with a needle. If it comes out clean, it's cooked. Remove from oven and invert the mould immediately. Let the cake cool completely. Use a knife to run around the edges of mould and take out the cake carefully.
Add caster sugar in fresh whipping cream and beat with an electric mixer until soft peaks form. You might like to sit the bowl on some ice cubes to beat whipping cream in warm weather. I skipped this step when the weather is cold. Most importantly, chill the mixer and bowl in fridge before beating, that would help you to get better results. Chill the beaten cream in fridge for 30 minutes.
Cut the cake into halves and spread cream evenly as picture shown. Done.